WELCOME TO THE

SOCIETY

FOR DANCE RESEARCH
The Society for Dance Research is an internationally focused, British-based non-profit society that supports and develops scholarly interests in all forms of dance through seminars, conferences, performances, and publications. Our journal, Dance Research, is addressed to scholars and practitioners working within the many disciplines which constitute dance studies, providing an international forum for the presentation and discussion of contemporary dance research.
NEWS
Black Lives Matter – Solidarity Statement
The Executive Committee of the Society for Dance Research wishes to express solidarity with the Black Lives Matter movement and people of colour around the world suffering under structures of systemic racism, white supremacy, inequality and oppression.
We recognise we have further work to do to embed anti-racist practices in our work to advance the field of dance research. As a starting point, we commit to prioritising the work of dance scholars of colour for funding and support and to addressing the underrepresentation of BAME people on the Executive Committee.
We welcome any suggestions for action from members and others who engage with the Society through different channels.
The Executive Committee of the Society for Dance Research
POSTGRADUATE DANCE DIRECTORY – AUGUST 2020 
The Society for Dance Research are collecting information about Dance in HE. This includes creating a directory of BA/MA/PHD level programmes which are currently running (both in the UK and internationally)
We are aiming to gather all this information into one place so that there is a resource for those looking to study on a dance programme. It should also help us see exactly what is still available in this changing landscape.
If you would like your programme to be included in this please email societydanceresearch@gmail.com
Please send in the following format:
– Title of course /level
– Short Description
– An image
– Direct contact/programme leader
– Website
IVOR GUEST RESEARCH GRANTS NOW OPEN FOR APPLICATION 
DEADLINE 1 SEPTEMBER 2020
Applications support early researchers to apply for up to £500 to support their research projects. Read more about the process and how to apply here. 
Here are what the 2019 recipients have to say about the grant: 
"The Ivor Guest Research grant not only gave me confidence in a very personal dance research idea, but a vote of confidence as a dance performer who has felt rejected from the industry since becoming pregnant. Completing the project has not only opened up new dance research gateways for me within my work as a bellydancer but will hopefully be a much needed research inspiration for future dance mothers-to-be". Anna Kirakowska
"The Ivor Guest Research Grant has supported my PhD research, into how maypole dancing can be used as a microcosm of culture, by funding a week long research trip to London. During this trip I was able to access sources at the British Library, Victoria and Albert Museum and Cecil Sharpe House. I was also able to make connections and establish contacts with potential interviewees. Many of the resources accessed on this trip provide the keystones around which my arguments centre and will lead to exciting future research." Bryony Kummer Seddon
"For my Ivor Guest Research Grant project – '"what masques, what dances shall we have": Dancing at the Court of James VI of Scotland' – I travelled to Scotland to undertake library and field research on aristocratic dance in the early modern Scottish court. During a blustery but beautiful week in Edinburgh, I was able to spend some dedicated time in the National Library of Scotland, alongside other libraries, museums and architectural spaces. I was looking for evidence to counter the argument, made by Anna Jean Mill amongst others, that 'Scotland was relatively unaffected by the Renaissance'. I found it. But I was also looking for evidence of Scotland's distinctiveness in the practice of court dance. I found that too. Without funding to make this trip, I don't think I would have been able to pursue this project. My research is not complete but my trip has uncovered some fascinating material and I plan to go back, after lockdown, to consolidate my research". Lynsey McCulloch
CHOREOGRAPHIC FORUM
FRIDAY 21 FEBRUARY 2020

The first Choreographic Forum of 2020 was part of The Place's Resolution, with a focus on dance writing and the relationship between critics and artists. With dance critics Josephine Leask and Sanjoy Roy and artists Bakani Pick-Up and Grace Nicol.

The focus of the conversation centred around the discussion of dance criticism today and how dance writers can best support emerging artists. 
Newsletter Editor Kathryn Stamp created the follow response to the event: 
This can be viewed fully on the Events Reports page 
If you would like to respond to this please email us at societydanceresearch@gmail.com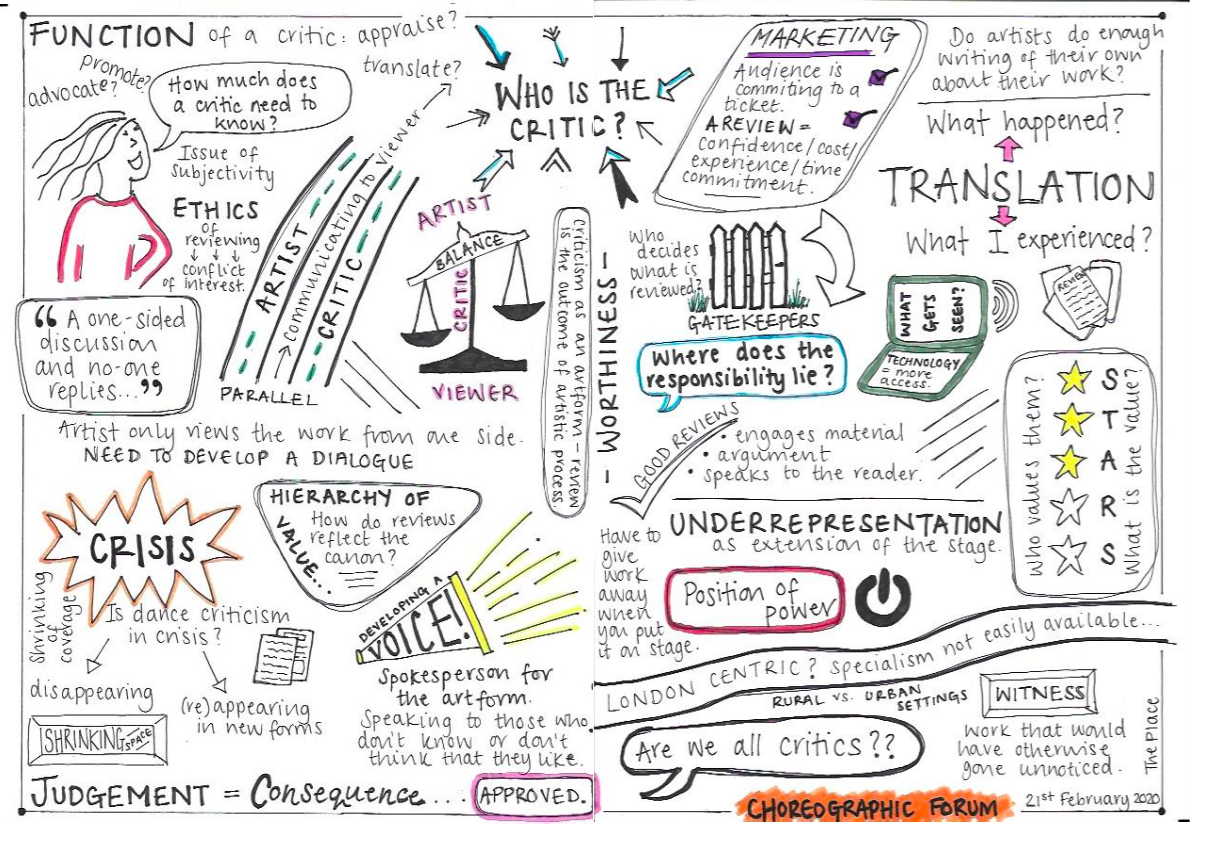 EVENTS


Crossing Borders with Independent Dance
The Society is pleased to have supported this years series of Crossing Borders talks run by Independent Dance entitled Catalysing Encounters
If you missed the talks, they are now available to listen to and download on the Independent Dance website 
Call for events reports/papers
The Society for Dance Research would like to encourage members to share their writing and research through the Society. If you are undertaking your own individual research which you would like to share or would like to write a report on one of the Society for Dance Research's events, email us at societydanceresearch@gmail.com to share your thoughts. 
Click here to find the conference reports in the Society for Dance Research online archive