WELCOME TO THE

SOCIETY

FOR DANCE RESEARCH
The Society for Dance Research is an internationally focused, British-based non-profit society that supports and develops scholarly interests in all forms of dance through seminars, conferences, performances, and publications. Our journal, Dance Research, is addressed to scholars and practitioners working within the many disciplines which constitute dance studies, providing an international forum for the presentation and discussion of contemporary dance research.
NEWS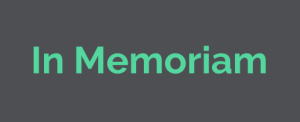 In Memoriam- Professor Margaret M. McGowan CBE FBA FRSA (1931-2022) & Clement Crisp (1926-2022) 
Sadly two key dance researchers have passed away in recent weeks. 
The Society for Dance Research would like to acknowledge the passing and work of Professor Margaret M. McGowan CBE FBA FRSA (1931-2022) and Clement Crisp (1926-2022). Margaret was Assistant Editor of Dance Research and Clement was Associate Editor. Both will be sorely missed by the Editorial team and by the Society. 
In Memoriam- Professor Margaret M. McGowan CBE FBA FRSA (1931-2022)
It is with great sadness that I write to report the passing last week of eminent dance historian Professor Margaret McGowan CBE FBA FRSA.
Professor McGowan was an influential pioneer of dance research, beginning in the days before dance was accepted as a subject within British universities. Located in French Renaissance studies, she continued throughout her life to promote dance as an academic discipline through her publications, editorial work, mentoring, external examinership, and often largely unseen support in reviewing grant and manuscript applications. Her book, L'Art du Ballet de Cour en France, 1581-1643 published in 1963 was based on her doctoral studies and became a classic text, original in its insistence on placing dance in its political and cultural contexts. Her 2008 publication, Dance in the Renaissance. European Fashion: French Obsession (Yale University Press) won the prestigious Wolfson History Prize.
Alongside her work at the University of Sussex from 1964 as Dean of the School of European Studies (1977-1980), Pro-Vice-Chancellor (1981-1986) and Deputy-Vice-Chancellor (1992-1998), she continued to advocate for dance scholarship. In 1993 she was elected a Fellow of the British Academy, in 1998 was made a CBE, and in 2020 was appointed Chevalier de L'Ordre des Arts et Lettres, a rare honour. She was a President of the Early Dance Circle and throughout her very full academic career was extremely active in promoting dance in interdisciplinary academic contexts.
As Associate Editor of Dance Research, Professor McGowan devoted many hours supporting the research and writings of both established and newer scholars in dance. Dedicated and tireless in her pursuit of dance research, she was intending to present the keynote paper at the forthcoming Oxford Dance Symposium (her paper will instead be presented by the organisers) in April.
On a personal note, I will miss her wise and careful counsel, her extensive knowledge, and kindly support. Always scrupulously fair and open-minded, presenting opinion only after studied consideration of all sides, she was rigorous in her scholarship and demanded the same high standards that she required of herself. Tributes are currently being paid on social media from a wide spectrum of our dance community. In accord with her wishes and those of her surviving husband Professor Sydney Anglo, there is to be no funeral nor memorial service. Let us, at least, strive to honour her memory by pursuing the goals of dance research with the same unswerving tenacity as well as visit or revisit her prolific and remarkably innovative publications.
Clement Crisp (1926-2022) 
The financial times says
"The critic Clement Crisp — brilliant, outrageous, erudite, shocking, hilarious, mercurial — has died at the age (it is finally revealed) of 95. For more than 60 years, his prose distinguished the arts pages of the Financial Times, always with eloquence, panache, expertise and astounding wit"
Read his obituary: 
https://www.roh.org.uk/news/remembering-clement-crisp-1931-2022 

'AILEY' CHOREOGRAPHIC FORUM
Following on the Bristol-premiere of Ailey, the Society for Dance Research and Kauma Arts held a Choreographic Forum at the Cube last month, on the 6th February. This hybrid event celebrated the Alvin Ailey American Dance Theatre Company's success in fostering participation and visibility of Black and African Diaspora communities in the dance industry, its impact in the UK and its resonance with today's dance ecology in Bristol. Speakers including Thomas F. DeFrantz, Adesola Akinleye, and Cleo Lake contributed to a vibrant and illuminating appraisal of the film and the company's legacy. 
The event was chaired by Mercy Nabirye, Director of Kauma Arts, and Sinibaldo De Rosa for the Society for Dance Research (who elegantly navigated the technical hiccups!).
We are honoured to be able to share a poem by Latisha Cesar written in response to the film and for the event, which can be found below. We will be in touch soon with further reflections from this brilliant event. 
Ailey in a Cube (Goodbye Dad)
What legacy is a Black man allowed
What is the face that a Black man is allowed to show
What shape must they twist themselves into
What heights must they stretch their limbs to reach
What are the lies we expect them to tell
And we resent them for telling.
What is legacy to a Black man
Who was never allowed to bring their whole self to this world Using their muscles to pound out and knead
A shape with poor tools and limited space
What does your life mean
When your avatar can be immediately hacked and appropriated When they begin before you end
And restrict your breath
And tell you there is a wrong way and a right way to die
How many years til you are able to enable
Your progeny your protégées to tell your true story
As your story.
When you whisper to us and through us
From the ancestral realm
May we have ears to listen
May we treat you with the honor
That your mere existence earned
And your "survival" solidified
We do not love you for your works
Though we cherish these portals by which we can connect
We love you because you were and because you are
We love you because your life gives us
More language for inner under and overstanding our truth. What is time to you
But a measure of change in perspective
The distance at which
The legends they create about you
Gives us clues to the fantasies that hold us captive
Where we see the trophy case where you were kept
For the prison that it truly was
But we also know that we are the key
To free you
To free me
A note to you dear reader:
I was born in 1981 in Brooklyn NY, to a man named R. I have lived long enough to watch Alvin Ailey's works performed and to see him "honored" for hiding himself. I have been able to train at the school that was created in his honor. I remember the secrets and lies told about him at the time of his death and I am refreshed to see him given the space to be himself 33 years after his passing. On the day that the Ailey Documentary premiered at the Cube Bristol (February 6, 2022) R passed over to the other side. As I was losing the man that made me, I was being gifted back a man whose life shaped me. This is a gift that was crafted by many hands. May my hands be part of a gift to someone else.
This is legacy. This is love. Ayibobo
Latisha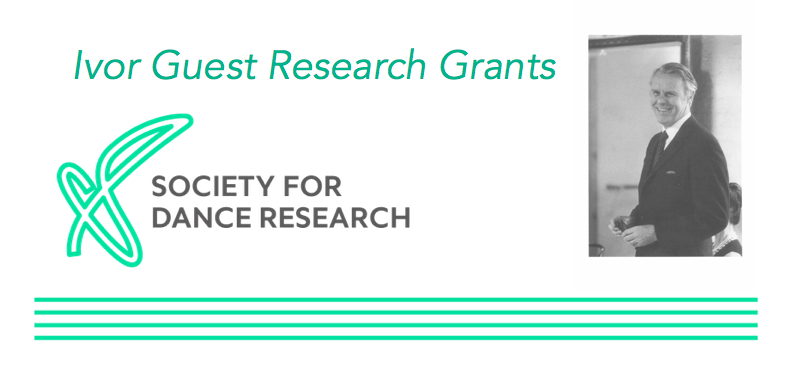 IVOR GUEST RESEARCH GRANT RECIPIENTS 2021
After receiving a large amount of applications, The Society are pleased to announce the recipients of this years Ivor Guest Research Grant.
Rosalind Holgate-Smith
Yolande Yorke-Edgell- Yorke Dance Project
Ann David
Charlie Ely 
Jess McArdle
Dr Alena Shmakova
Click here to read about their research projects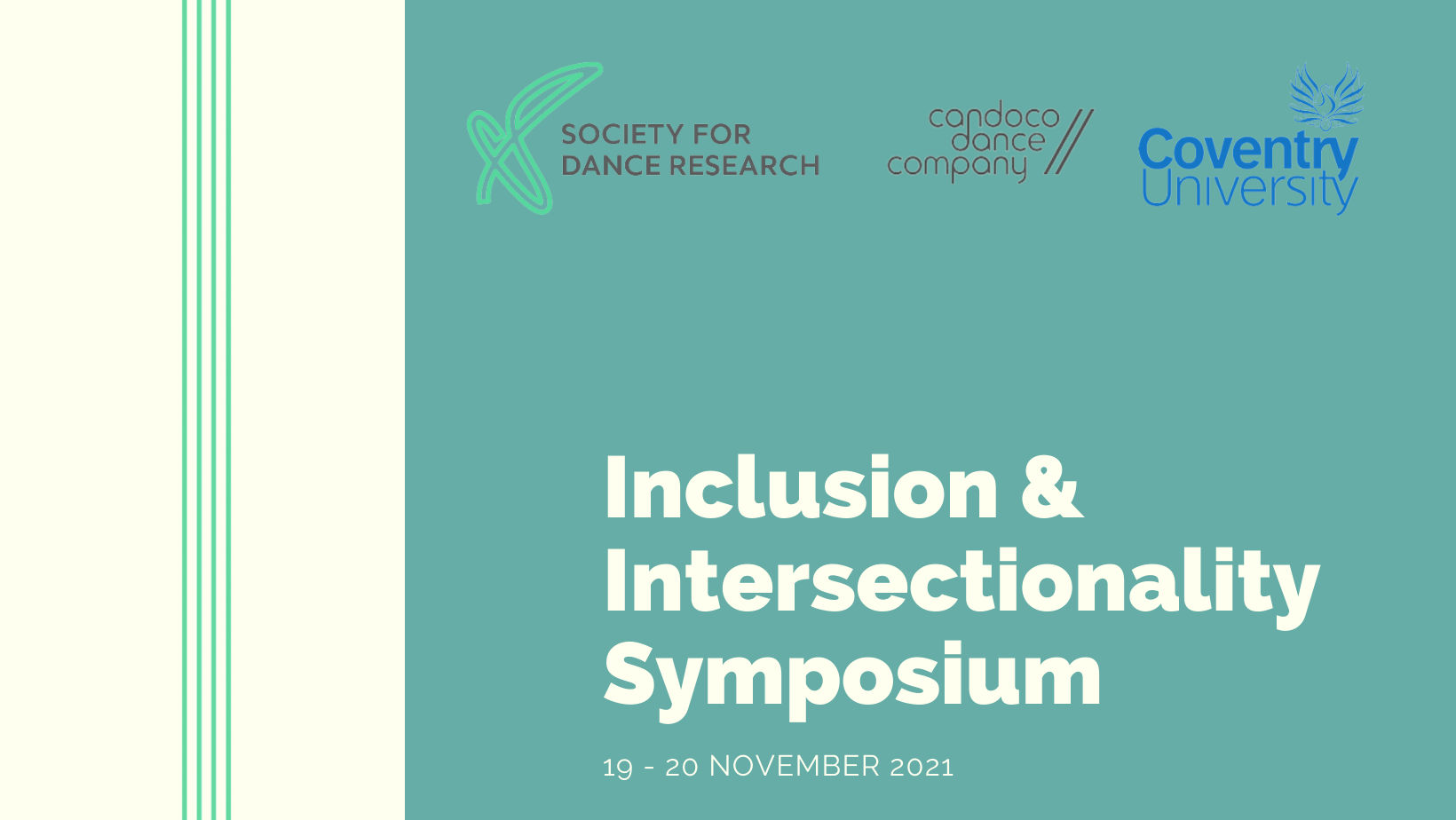 'Inclusion and Intersectionality' Symposium – 19 – 20 November 2021
The 'Inclusion and Intersectionality' Symposium , organised by The Society for Dance Research, hosted by CDaRE with Candoco Dance Company was held in November 2021. 
The symposium was accompanied by an Online Repository on wakelet which can be found here
The Online Repository was designed to allow conversations, provocations and discussions from the symposium continue on. Alongside archiving the symposium itself. 
The symposium questioned the ways that dance includes and excludes. Panels included: 
– Practitioner Perspectives
– Broadening Opportunities
– Decolonial Dance Narratives
– Diversifying Dance Research; facilitating intersections that include black perspectives
– Age and Inclusion
There will be various different formats including workshops, discussions & performative responses.
Full program can be found here
Recordings will be shared with those who purchased tickets soon.
Sharing the research of dance scholars:
On Access (or lack of) by Erica Charalambous, Centre for Dance Research Coventry University
School of Communication and Creative Arts, Deakin University, Melbourne, Australia.
What would we be without our archives and who would we be without insight into our history? Afterall "we are what we keep; we keep what we are", as archivist Terry Cook so eloquently emphasizes when he highlights the important role that archivists and archives have in determining our social, political and cultural history (Cook 2011). In addition, Cook highlights the necessity to rethink that maybe "we are what we do not keep" because certain archival content equally worthy of appraisal and inclusion is not part of the hegemony of institutional archives. Dance content is amongst the lesser archived materials in comparison to the other Arts such as Theatre, Music and Visual Arts, and thus harder to find and make use of what is kept and preserved in an archive or archival collections. To make matters more complex access to such archives is often limited either due to the absence of catalogued material, the limited amount of content one can view in short time visits and the challenges of archival mediation; assisting with access to archival collections and mediating between users and material both on site and online (Duff 2010).
Click here to read this article
Black Lives Matter – Solidarity Statement
The Executive Committee of the Society for Dance Research wishes to express solidarity with the Black Lives Matter movement and people of colour around the world suffering under structures of systemic racism, white supremacy, inequality and oppression.
We recognise we have further work to do to embed anti-racist practices in our work to advance the field of dance research. As a starting point, we commit to prioritising the work of dance scholars of colour for funding and support and to addressing the underrepresentation of BAME people on the Executive Committee.
We welcome any suggestions for action from members and others who engage with the Society through different channels.
The Executive Committee of the Society for Dance Research