WELCOME TO THE

SOCIETY

FOR DANCE RESEARCH
The Society for Dance Research is an internationally focused, British-based non-profit society that supports and develops scholarly interests in all forms of dance through seminars, conferences, performances, and publications. Our journal, Dance Research, is addressed to scholars and practitioners working within the many disciplines which constitute dance studies, providing an international forum for the presentation and discussion of contemporary dance research.
NEWS
Join the Executive Committee  – 2023

The Society for Dance Research invites nominations for the Honorary Officer positions of Membership Secretary, 
Treasurer 
and
Newsletter Editor
 as well as for vacant 
Ordinary Member positions
 on the Executive Committee. Regular meetings of the Executive Committee (4 per year) will be held virtually; attendance in person is expected at the annual Away Day in London (April 2023) and funding to support travel will be available where needed. The term of membership on the Committee is three years.
We particularly encourage nominations by scholars representing the diversity of our field and profession (including gender, age, ethnicity, sexual orientation, disability status and race), and scholars outside of the UK. 
Please submit your nomination and a brief biography by Wednesday 1st of February 2023 to societydanceresearch@gmail.com. Nominations need the support of two members of the Society for Dance Research who should be copied in. Please state for which position you would like to put yourself forward.
Nomination checklist:
Your Name
Position for which you would like to put yourself forward (Treasurer, Membership Secretary and Newsletter Editor or Ordinary Member)
Names of two members of the Society for Dance Research who support your nomination (copied in)
Brief biography
Ivor Guest Research Grants 2022 Recipients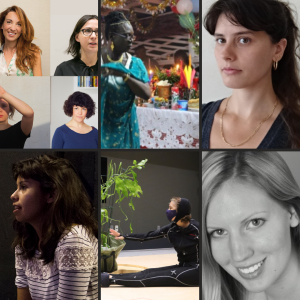 The Society for Dance Research is pleased to announce the recipients of the 4th round of the Ivor Guest Research Grant: 
Adesola Akinleye 
Clare Parfitt
Daniela Perazzo 
Rachael Davies
Thea Stanton
Laura Smith
You can read more about the recipients projects here
Society for Dance Research statement on Dance programmes at risk – 29 June 2022 
The members of the Society for Dance Research are very dismayed to hear of recent proposals to make significant cuts to performing arts staff and courses at several UK higher education institutions (HEIs). In particular, the proposed plans for the University of Wolverhampton and the University of Roehampton, the latter hosting one of the top Dance departments in the UK in terms of research, will have a detrimental effect on dance provision nationally resulting in a negative impact both on the field of dance and opportunities to widen access to the performing arts. For a relatively new discipline built upon the extraordinary efforts of internationally recognised scholars, such cuts will have a significant negative impact. However, we recognise that these cuts are prevalent throughout the Arts and Humanities and the Society also stands with and supports colleagues similarly affected at other HEIs including at Huddersfield, De Montfort, Dundee, The Royal College of Art and Goldsmiths.
While the cuts affect teaching course provision, they will also reduce research capacity. Additionally, research posts will be lost. Therefore, we are concerned about the detrimental effect these changes will have to the outstanding dance research culture present in the UK.  
These recent decisions result from cuts to HE arts funding which follow on from changes in secondary education and have been detrimental to the arts, and particularly the performing arts. The Society for Dance Research stands firmly against such attacks on the prized and vital arts and cultural provision fostered in the UK. In the wake of national and international division, the COVID-19 pandemic and worsening pressures on public life (cost of living, mental health crises), the arts are needed now more than ever. Please read One Dance UK's advocacy statement here for more on the impact of these cuts and the importance of continuing high-quality and geographically diverse dance provision.  
The Society for Dance Research rejects the perpetuated narrative that a shift towards greater skills-based courses requires a reduction in arts provision. We want to encourage leadership at HEIs to engage in purposeful and open dialogue with staff and students to explore and develop ways forward that address their emerging pressures. We believe dance as a field has much to offer in developing responsible, skilled, and creative graduates who can play a vital part in a changing world.  
We are aware that statements of support are only one facet of activism, so we are also seeking out practical ways that we can help. Should you want to show your support and take action, below are some suggestions of how you can get involved: 
Black Lives Matter – Solidarity Statement
The Executive Committee of the Society for Dance Research wishes to express solidarity with the Black Lives Matter movement and people of colour around the world suffering under structures of systemic racism, white supremacy, inequality and oppression.
We recognise we have further work to do to embed anti-racist practices in our work to advance the field of dance research. As a starting point, we commit to prioritising the work of dance scholars of colour for funding and support and to addressing the underrepresentation of BAME people on the Executive Committee.
We welcome any suggestions for action from members and others who engage with the Society through different channels.
The Executive Committee of the Society for Dance Research