SDR Events
The SDR holds regular events and study days for members and non-members which aim to encompass a wide range of interests and scholarship in dance related areas.
UPCOMING EVENTS 
CHOREOGRAPHIC FORUM
FRIDAY 21 FEBRUARY 2020, 5.30 - 7.15PM 
THE PLACE, FOUNDERS STUDIO WC1H 9PY

The first Choreographic Forum of 2020 will be part of The Place's Resolution, with a focus on dance writing and the relationship between critics and artists. With dance critics Josephine Leask and Sanjoy Roy and artists Bakani Pick-Up and Grace Nicol.

The focus of the conversation centres around the discussion of dance criticism today and how dance writers can best support emerging artists. 
Tickets are available from The Place website: https://www.theplace.org.uk/whats-on/choreographic-forum-society-dance-research
Free for Society for Dance Research members
£5 for non-members
£2.50 for non-members with a ticket to the evening's performance, the closing night of the Resolution festival
PREVIOUS EVENTS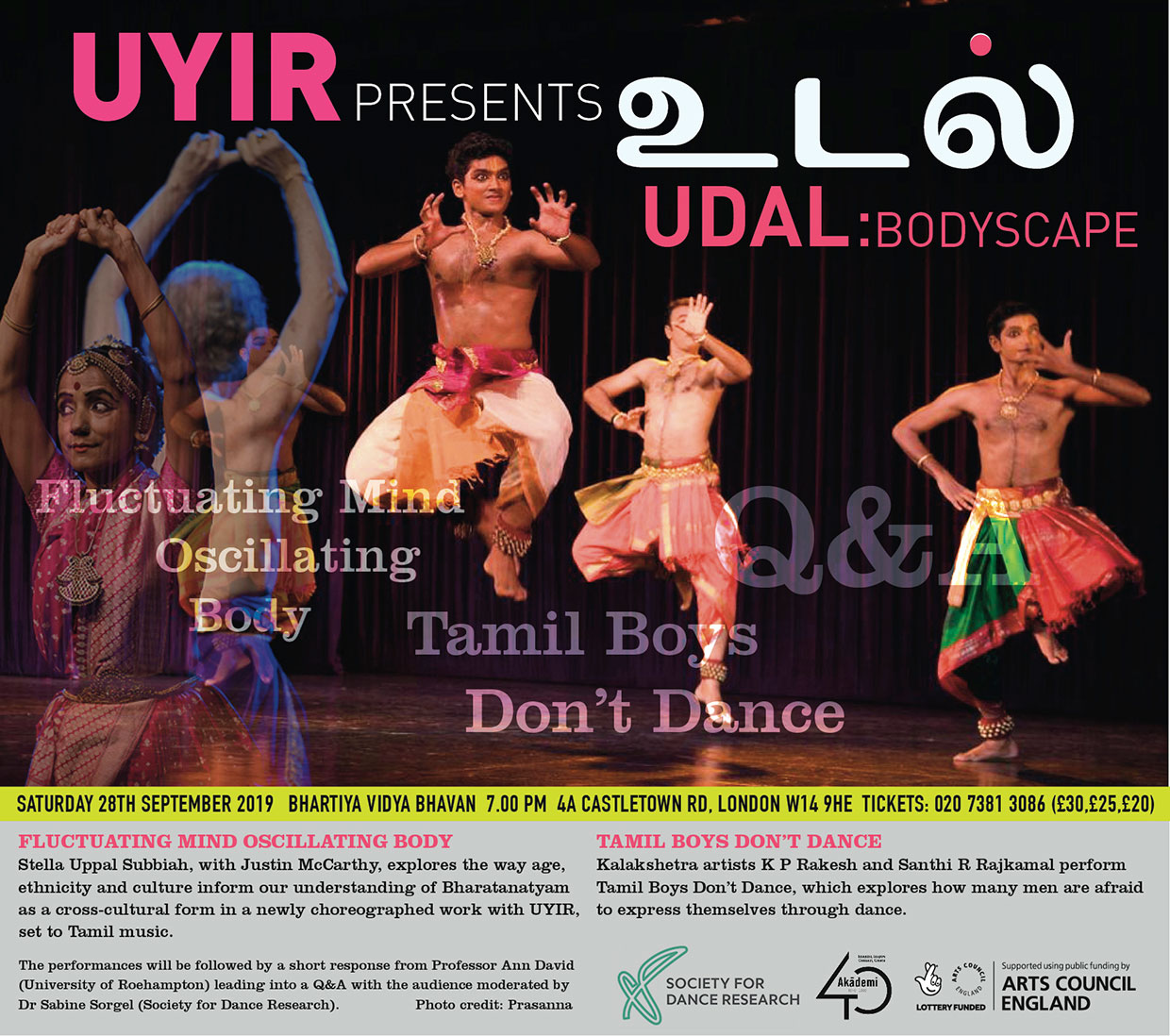 UDAL: BodyScape Saturday 28 September, 8pm Bhartiya Vidya Bhavan W14 9HE, London 

FLUCTUATING MIND, OSCILLATING BODY
Stella Uppal Subbaiah , with Justin McCarthy, explore the way age, ethnicity and culture inform our understanding of Bharatanatyam as a cross – cultural form in a newly choreographed work with UYIR, set to Tamil Music
TAMIL BOYS DON'T DANCE
Kalakshetra artists K P Rakesh and Santhi R Rajkamal perform Tamil Boys Don't Dance, which explores how many men are afraid to express themselves through dance.
The performance will be followed by a short response from prof. Ann David (University of Roehampton) and a Q&A moderated by Dr. Sabine Sorbel (Society for Dance Research)
For Members we have a small number of tickets released for FREE!
Click here to book your ticket
(Full ticket price between £20 - £25)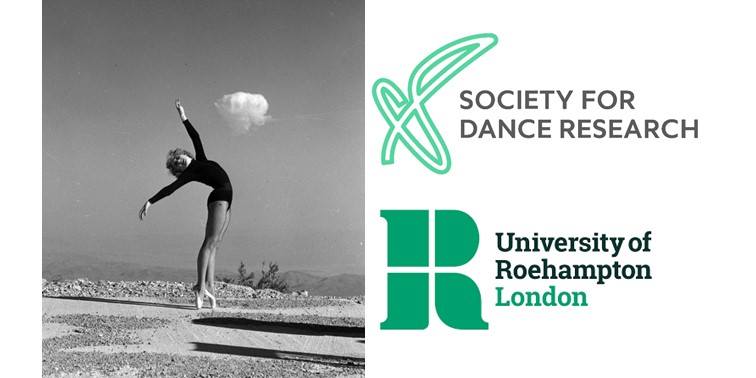 Research Forum - Cold War Politics and the Modern Arts, Emerging Approaches and Scholarship
Society for Dance Research, in collaboration with University of Roehampton
Dates: Tuesday 30th April, PhD Student Event: 2.30 - 4.30pm, Panel Discussion: 5 - 7pm
Location: Roehampton University (it also possible to attend this event online via zoom)
Bookings via: EventBrite
This two-part research forum will explore key political perspectives on dance and other modern arts during the Cold War, taking a global approach through an in-depth investigation of salient case studies and intersections in the United States, South Asia, Europe, and the Middle East.
The day is open to students and researchers of all levels to share emerging ideas and individual research findings with experts in the field. Seminar participants are invited to explore published texts, which will be listed upon registration along with a bibliography.
Schedule:
14:30-16:30 GMT: PhD Student Forum: So What is a Tree?: "If a tree Falls in the Archive…"
This session on methodology and theory in interdisciplinary studies will be facilitated by Dr Stacey Prickett, Dr Victoria Thoms and Dr Victoria Phillips, centred around contributions from PhD students. Students are invited to share selected papers/abstracts in advance with the other participants and will have the opportunity to briefly speak to these materials at the Forum (maximum 5 minutes).
PhD students are invited to think about the ways in which the Cold War might have a bearing on their research. In which ways do geopolitics, international relations, national arts policies, philanthropy, and corporate power in the Cold War period intersect with your research?
A number of travel bursaries of up to £50 are available from the Society for Dance Research to enable PhD students to attend the Research Forum. Applicants should email societydanceresearch@gmail.com with their research idea (maximum 300 words) and a breakdown of travels costs by 1 April 2019.
It is possible to participate in this PhD Student Forum remotely via an online interactive platform. If you would like to participate online, please select the relevant ticket option (PhD Student Forum only - online remote participation £10).
17:00-19:00 GMT: Panel discussion with invited speakers
The invited speakers will briefly illuminate their research and discuss possible synergies or divergences between each other's work. Then, the discussion will be broadened to include the audience in a Q&A.
Dr Jens Richard Giersdorf
Professor of Dance Studies, Marymount Manhattan College
https://www.mmm.edu/live/profiles/372-jens-richard-giersdorf
Dr Gay Morris
Dance and art critic and historian, Boyer College of Music and Dance, Temple University
http://www.temple.edu/boyer/about/people/GayMorris.asp
Dr Victoria Phillips
LSE-Columbia University Visiting Professor, Department of International History, Columbia University, European Institute, Harriman Institute, Department of History
http://www.lse.ac.uk/International-History/People/fellows-and-visiting-staff/phillips/phillips
This panel discussion will be live streamed to the Society for Dance Research Facebook page.
Image: US Goverment photo featuring dancer Sarah McCloskey in front of a nuclear cloud from atomic testing in Nevada during the 1950s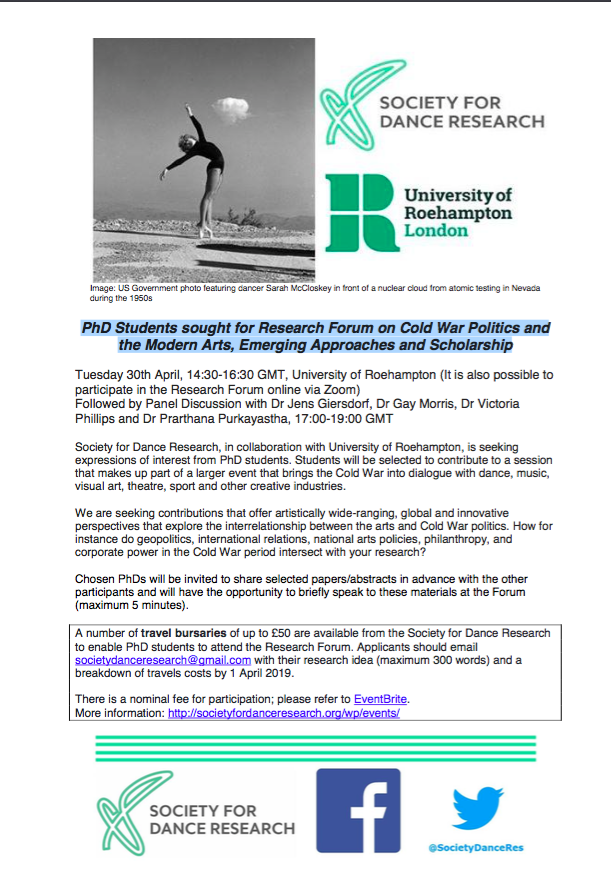 Recent Past Events 
FILMED LIVE STREAM COMING SOON
Nightlife and Queer Utopias
Organised in partnership with British Academy and V & A

The LGBTQ dancefloor has long been celebrated as a utopian space to express identities and desires. But London's club scene has undergone a worrying transformation in recent years, with over 50% of venues closing. While the Mayor of London has pledged to safeguard LGBTQ club culture, is enough being done to defend – and revive - the dancefloor? Join our panel as they discuss why nightlife matters and what more needs to be done to reinvent the scene in London and beyond for everyone on the LGBTQ spectrum.

Location: V & A Museum, Cromwell Road, London, SW7 2RL
Date: Sat 23rd February  
Time: 2 - 4pm  
Tickets: Free to attend, drop in 
Further information: Visit the British Academy website 
7 January 1984
National Institute for Social Work
19 November 1983
MacOwen Theatre, LAMDA
8 October 1983
Cecil Sharp House