Friday 26th October, 18.30 – 20.30pm
The Kahn, Sadlers Wells, Rosebery Avenue, EC1R 4TN
Join us for a discussion on Jasmin Vardimon's Medusa on Friday 26th October with invited speakers Helen Morales and Geoffrey Colman, following the performances at Sadlers Wells 22nd – 24th October.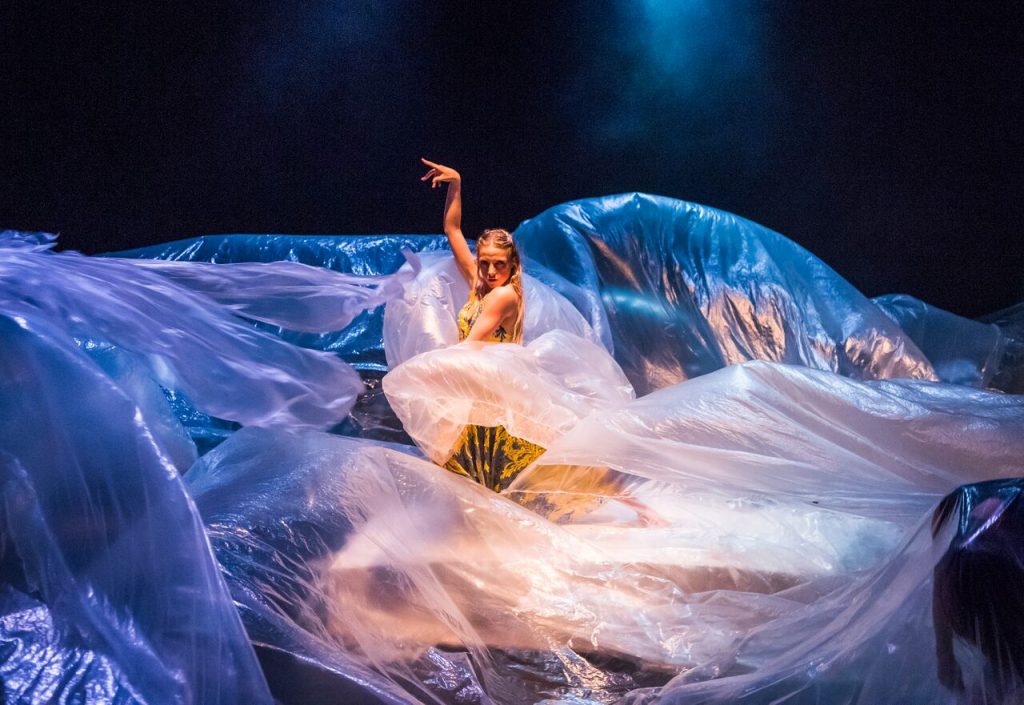 Image by: Tristam Kenton
Biographies:
Helen Morales is Argyropoulos Professor of Hellenic Studies at the University of California, Santa Barbara. She moved the US from England in 2009; before that she was Senior Lecturer in Classics at the University of Cambridge, and a Fellow of Newnham College. She has published widely on ancient and modern myth, culture, and literature, including Classical Mythology: A Very Short Introduction (Oxford University Press, 2007), and Pilgrimage to Dollywood: A Country Music Road Trip Through Tennessee (Chicago University Press, 2014). She is co-editor of the journal Ramus: Critical Studies in Greek and Roman Literature (Cambridge University Press), and her current book project is on ancient and modern misogyny and protest.
As an acting coach Geoffrey Colman has collaborated with many national and international practitioners in theatre, film, opera, ballet, musical theatre, magic, modelling, music and contemporary dance, and has a long-standing association with the Theatre Royal Haymarket as a 'resident' master. His recent theatre credits include An American In Paris (Dominion Theatre), Dirty Dancing (UK tour), Cabaret (New Wimbledon Theatre /UK tour), Carousel (English National Opera), War Of The Worlds (Dominion Theatre), Crazy For You (UK tour), I Loved You And I Loved You (Sweetshop Revolution/National Theatre Wales), Shot to Fame (Soho Theatre), extensive work with Jasmin Vardimon Company including Justitia (Peacock Theatre / International tour), PARK (Sadler's Wells / international tour), Pinocchio (Sadler's Wells / international tour). TV coaching credits include Britain's Next Top Model (Sky Living), Mother Of Invention (HBO/Sky 1), extensive work with multi award-winning mentalist and hypnotist Derren Brown, including The Push (Netflix), Miracles For Sale (Channel 4), Fear & Faith/Placebo (Channel 4), Apocalypse (Channel 4), and Pushed To The Edge (Channel 4 /Vaudeville Productions). Other TV magic includes Katherine Mills Mind Games (Watch TV), Every Trick in the Book (BBC), and Young & Strange (ITV 1). Film coaching credits include Kick Ass 2 (Universal Pictures) and extensive work for Miramax, HBO and Disney.
SDR's Choreographic Forum is open to students, researchers, artists, and practitioners.
Attendance is free for Society for Dance Research (SDR) members / £6 full price / £3 concessions (students) + booking fees. Find out how to become a member of the SDR by visiting our website.
Click here to book your tickets through eventbrite.
For more information about the performances and to book tickets please visit: https://www.sadlerswells.com/whats-on/2018/jasmin-vardimon-company-medusa/booking
The Choreographic Forum is an initiative aiming to support an exchange of thoughts on current dance and choreography. It is set up as a series of roundtable discussions, during which we reflect on a performance that we have watched together, in a theatre or elsewhere in London. We meet 2-3 times a year, and each session begins with short statements by invited speakers who then lead the discussion.
SDR are currently looking for 3 individuals to Co-Curate the next round of Choreographic Forum, see the below link:http://societyfordanceresearch.org/wp/2018/08/15/choreographic-forum-call-for-co-curators/