WELCOME TO THE

SOCIETY

FOR DANCE RESEARCH
The Society for Dance Research is an internationally focused, British-based non-profit society that supports and develops scholarly interests in all forms of dance through seminars, conferences, performances, and publications. Our journal, Dance Research, is addressed to scholars and practitioners working within the many disciplines which constitute dance studies, providing an international forum for the presentation and discussion of contemporary dance research.
NEWS
INDEPENDENT ADMINISTRATOR RECRUITMENT – JUNE 2023 
The Society for Dance Research is seeking an independent, organised and motivated Administrator to manage and support the Society's administrative, financial, marketing and communication needs.  
The role is an independent freelance position for an individual with at least three years' experience in arts administration, is able to work independently and from their own base. Some experience or knowledge of the UK dance academia, board management, charity governance, events coordination, finance management, and strong marketing skills are required. Experience of working with WordPress, MailChimp, Eventbrite, Google Drive, and social media platforms is desirable. The role will suit someone who identifies as an all-rounder, and is highly organised, numerate, adaptable, with excellent written/verbal communication skills, and ability to manage own workload.
Click here to read through the job description
CHOREOGRAPHIC FORUM "AILEY" – 20 MAY 2023 
BOLOGNA – Choreographic Forum online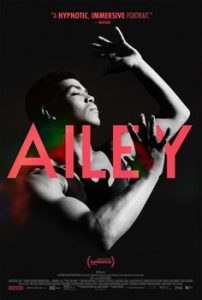 Screening of the film Ailey by Jamila Wignot (2021), followed by Choreographic Forum in which the themes addressed by the film will be discussed in the presence of scholars, dancers and the film's director.
Inspired by an event organised by the Society for Dance Research last year in Bristol, the evening will include the projection of the film Ailey by Jamila Wignot (2021, duration 95 minutes, Italian subtitles) accompanied by a Choreographic Forum, in which the themes addressed by the film will be discussed thanks to the presence of scholars, dancers and the director of the film. The introduction is entrusted to Elena Cervellati, who will introduce the figure of Alvin Ailey in the context of the American dance scene; some reflections on the figure of Ailey will be proposed by Thomas DeFrantz, professor at Northwestern University and director of SLIPPAGE: Performance, Culture, Technology, by the director of the film, as well as by other artists and scholars.
The Choreographic Forum will also be accessible online, via Zoom, for members of the Society for Dance Research and Kauma Arts, as well as for other guests who cannot be in Italy.
Viewers are invited to watch Alvin Ailey's masterpiece Revelations (1960, duration 30 minutes), available on YouTube.
The aim of the Choreographic Forum is to begin to reflect critically, also in Italy, on dance techniques and innovations originating from the African continent and diasporas. Alvin Ailey was a pioneer, through the Alvin Ailey American Dance Theatre Company and especially his masterpiece Revelations (1960), in promoting the participation and visibility of black communities and the African diaspora in the dance industry.
You can purchase/watch Ailey via the following link: https://watch.dogwoof.com/film/ailey/
https://site.unibo.it/damslab/it/eventi/proiezione-del-film-ailey-di-jamila-wignot-2021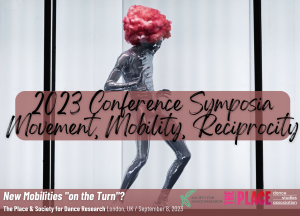 New Mobilities "on the Turn"?
Society for Dance Research, The Place & Dance Studies Association 
CALL FOR PAPERS
A quarter of a century after the 'mobile turn' in anthropology, cultural studies, geography, migration studies and sociology, this symposium sets out to explore the limitations of/to mobility in the current historical moment. The phrase '…on the turn' speaks both to mobility as a paradigm across the humanities being in a state of change, and to mobility and its promises turning sour, giving way to critiques and a leaning into mobility's limitations. In London, for instance, this question manifests itself in response to the impact of Covid-19 lockdowns, the full implementation of Brexit, the increasing unease with the environmental impacts of travel and the changes in arts and education policies towards disability and social mobility issues. We propose to question how dance and performance studies might speak to the various mobilizations of movement as it encounters pandemics, wars, migration, and border controls. Hence, this event seeks to bring together voices from within and beyond the disciplinary boundaries of dance and performance, through conversations and interventions. 
Submissions by 25 May 2023
Click here to read more and apply
Call for participation – Dance, Health and Communities, 
Early
 Career Researcher Development Day – Friday 23 June 2023
University of Bedfordshire and Society for Dance Research
Early career researchers are invited to a researcher development day focusing on the theme Dance, Health and Communities.
The day will offer opportunities to workshop and develop writing, opportunities to present work in progress and research papers in progress.  The day will be facilitated by the University of Bedfordshire and the Society for Dance Research.
All early career researchers whose work focuses on Dance, Health and Communities are welcome to attend. Early career researchers can include MPhil/PhD students and those within eight years of completing their PhD studies. 
The day will take place at the Bedford Campus, with access to both classrooms and dance studio spaces.
Join us for a day that aims to inspire and catalyse your research development, and network with like-minded peers.
A small number of travel bursaries of up to £50 are available for those from outside of the University of Bedfordshire who need support with travel.
Programme for the day:
10.30 am Arrival and registration
11.00 – 11.15 Introductions
11.15 – 13.15 Workshop session 1
13.15 – 14.15 Lunch
14.15 – 15.30 Presentations and showings of research in progress 
15.30 – 15.45 break
15.45 – 17.00 Workshop session 2
17.00 – 17.15 Closing and next steps
If you wish to attend the day, please send an expression of interest in an email to tamara.ashley@beds.ac.uk giving a brief overview your current research, your researcher development needs, and if you wish to share some work in progress, either practice or presentation. Please indicate if you wish to apply for a travel bursary.
Please send all expressions of interest and applications for travel bursaries by Monday 15 May 2023. 
Society for Dance Research AGM 2023
Sat 4 March, 11am – 1pm 
The Place, London 
Click here to reserve your free place 
The Society are delighted to invite you to this year's Annual General Meeting. 
The AGM will begin with a provocation from Thea Stanton and Jane Chan and a celebration of Dance Books, followed by a summary of The Society's annual activities. 
The AGM will begin with a provocation from Thea Stanton and Jane Chan and a celebration of Dance Books, followed by a summary of The Society's annual activities. 
Attached to this email you will find the list of nominees and the ballot paper.
Packaging process: Exploring the risks, effort and challenges in holding and sharing a dance product, whilst maintaining an ongoing practice in a capitalist state
In a deliberate attempt not to create a 'fixed or finished' presentation, Jane and Thea will be exploring the following provocations in a series of voice notes between 6 February and 28 February 2023, drawing inspiration from the method introduced by Broderick Chow and Royona Mitra for the 2021 Critical Pedagogies annual lecture, where they exchanged a series of voice note conversations prompting an opening up, as opposed to a pinning down.
Excerpts of these voice notes, as well as Thea and Jane's in person responses to the provocations, their ongoing dialogue and their own practice and research will be shared at the SDR AGM on 4 March 2023. The entirety of the voice notes will also be available online following the AGM. 
List of provocations
What are the risks and effort in producing and disseminating a dance product, whilst maintaining a practice in a capitalist state/way of being?
How do you package process? 
How do societal structures and situations such as covid and being a woman of the global majority affect our approaches with disseminating dance/research?
How might methods of dissemination such as podcasts and zines be playful, fun and disruptive and invite the unexpected? 
How does abstractness / intention play a part in dissemination for example, doodles / visuals/ voice notes? What are their value(s)?
What role does/should access play in the dissemination of dance research?
Jane Chan is an independent dance artist and works at the intersections of making, performance, teaching, project managing, mentoring, writing and change instigation. She is the lead artist of F-ing Good Provocation and one of thirty Clore leaders, Clore Leadership Inclusive Cultures 2022. She is also a lecturer at London Contemporary Dance School and a member of Amina Khayyam Dance Company. She works in an artist-advisory capacity for Akademi and Sadler's Wells & mentor for Arts Emergency. Her work is auto-ethnographical; it questions and reclaims cultural / social misrepresentation, as well as dismantling, redistributing and reconstructing the
power dynamics within dance and beyond. 
Thea Stanton is an indigenous Chilean British dance researcher, choreographer and educator currently undertaking a Practice as Research PhD at the University of Chichester where she is exploring the notion of immersive choreography as a means to negotiate, boundaries, difference and societal power structures within immersive and participatory performance frameworks. Thea is currently a Lecturer at Bath Spa University, and a Visiting Lecturer and Supervisor at Rose Bruford College and Roehampton University. Recently, Thea has presented papers at Our Dance Democracy 2, The Society for Dance Research Inclusion and Intersectionality Symposium, TaPRA 2021, The Dance Studies Association Conference 2022, and What Dance Can Do (Chichester University). She is currently a co-convenor for the Theatre and Performance Research Association, Body and Performance Working Group, and has been invited to speak on SDR's Inclusion and Intersectionality Podcast as well as the ResDance podcast, produced by Dr Gemma Harman. Thea is a recipient of the Society for Dance Research's Ivor Guest Research Grant 2022. 
Click here to view the AGM Agenda 
Ivor Guest Research Grants 2022 Recipients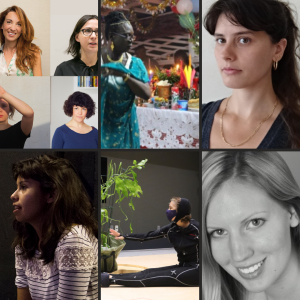 The Society for Dance Research is pleased to announce the recipients of the 4th round of the Ivor Guest Research Grant: 
Adesola Akinleye 
Clare Parfitt
Daniela Perazzo 
Rachael Davies
Thea Stanton
Laura Smith
You can read more about the recipients projects here
Society for Dance Research statement on Dance programmes at risk – 29 June 2022 
The members of the Society for Dance Research are very dismayed to hear of recent proposals to make significant cuts to performing arts staff and courses at several UK higher education institutions (HEIs). In particular, the proposed plans for the University of Wolverhampton and the University of Roehampton, the latter hosting one of the top Dance departments in the UK in terms of research, will have a detrimental effect on dance provision nationally resulting in a negative impact both on the field of dance and opportunities to widen access to the performing arts. For a relatively new discipline built upon the extraordinary efforts of internationally recognised scholars, such cuts will have a significant negative impact. However, we recognise that these cuts are prevalent throughout the Arts and Humanities and the Society also stands with and supports colleagues similarly affected at other HEIs including at Huddersfield, De Montfort, Dundee, The Royal College of Art and Goldsmiths.
While the cuts affect teaching course provision, they will also reduce research capacity. Additionally, research posts will be lost. Therefore, we are concerned about the detrimental effect these changes will have to the outstanding dance research culture present in the UK.  
These recent decisions result from cuts to HE arts funding which follow on from changes in secondary education and have been detrimental to the arts, and particularly the performing arts. The Society for Dance Research stands firmly against such attacks on the prized and vital arts and cultural provision fostered in the UK. In the wake of national and international division, the COVID-19 pandemic and worsening pressures on public life (cost of living, mental health crises), the arts are needed now more than ever. Please read One Dance UK's advocacy statement here for more on the impact of these cuts and the importance of continuing high-quality and geographically diverse dance provision.  
The Society for Dance Research rejects the perpetuated narrative that a shift towards greater skills-based courses requires a reduction in arts provision. We want to encourage leadership at HEIs to engage in purposeful and open dialogue with staff and students to explore and develop ways forward that address their emerging pressures. We believe dance as a field has much to offer in developing responsible, skilled, and creative graduates who can play a vital part in a changing world.  
We are aware that statements of support are only one facet of activism, so we are also seeking out practical ways that we can help. Should you want to show your support and take action, below are some suggestions of how you can get involved: 
Black Lives Matter – Solidarity Statement
The Executive Committee of the Society for Dance Research wishes to express solidarity with the Black Lives Matter movement and people of colour around the world suffering under structures of systemic racism, white supremacy, inequality and oppression.
We recognise we have further work to do to embed anti-racist practices in our work to advance the field of dance research. As a starting point, we commit to prioritising the work of dance scholars of colour for funding and support and to addressing the underrepresentation of BAME people on the Executive Committee.
We welcome any suggestions for action from members and others who engage with the Society through different channels.
The Executive Committee of the Society for Dance Research