The Society for Dance Research have invited Michelle Bynoe, Aby Watson and Kate Marsh to make contributions to the Inclusion and Intersectionality Symposium. Each will give either a performative or creative response to the papers presented on the day and the discussion that will emerge from these papers. Michelle, Aby and Kate all offer a unique perspective on the issue of Inclusion and Intersectionality and we are looking forward to what will emerge from their engagement with the Symposium.
Read their biographies below.
Michelle Bynoe
I am a creative professional with a background in dance. I have a wealth of leadership, management, training facilitation and teaching experience in arts, mainstream, higher and alternative education, as well as criminal justice and community sectors. I lecture in Cultural Leadership and Performing Arts at Canterbury Christ Church University and am Education Manager for Russell Maliphant Dance Company. I develop and oversee dance based projects and deliver workshops and training for a host of established arts and education institutions as well as local authorities. I have worked with The Place, The Roundhouse, The Royal Central School for Speech and Drama, Dance United, Trinity Laban and many others.
I am a Fellow of The Royal Society of Arts and a former Steering Group member for the National Criminal Justice Arts Alliance. My aspirations are to contribute to ground breaking, innovative work and to continually learn and grow.
I look forward to to being involved in the conference and responding to my learning and observations.
Aby Watson
Aby Watson is an artist, dance maker, performer, and researcher based in Glasgow, Scotland. Her work is an expression of neurodivergent embodiment and carries the vibrant energy of her dyslexic, dyspraxic and ADHD mindbody. Through improvisation, movement scores, text, and object, Aby's dance practice seeks to make her hidden differences visible through choreographic action. She is currently undergoing her practice-based autoethnographic PhD project Disordering Dance at the Royal Conservatoire of Scotland, which investigates dance-making from a lived experience of dyspraxia to create radical, affirmative and original dance that utilises her neurodivergent positionality. Aby's work has been seen across the UK and internationally, at venues The Southbank Centre, Sophiensaele, Tramway and Wales Millenium Centre, and has been supported by Unlimited, The National Theatre of Scotland and Janice Parker Projects amongst others.
Kate Marsh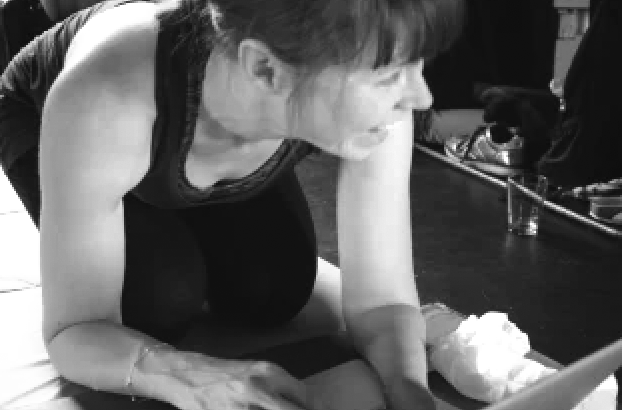 Kate Marsh is a research assistant in the Centre for Dance Research at Coventry, a contemporary dancer and thought leader from Peterborough. She has performed and taught nationally and internationally.  She has projects with arts organisation Metal on a programme called Change Makers, and works closely with Candoco on their outreach programme.