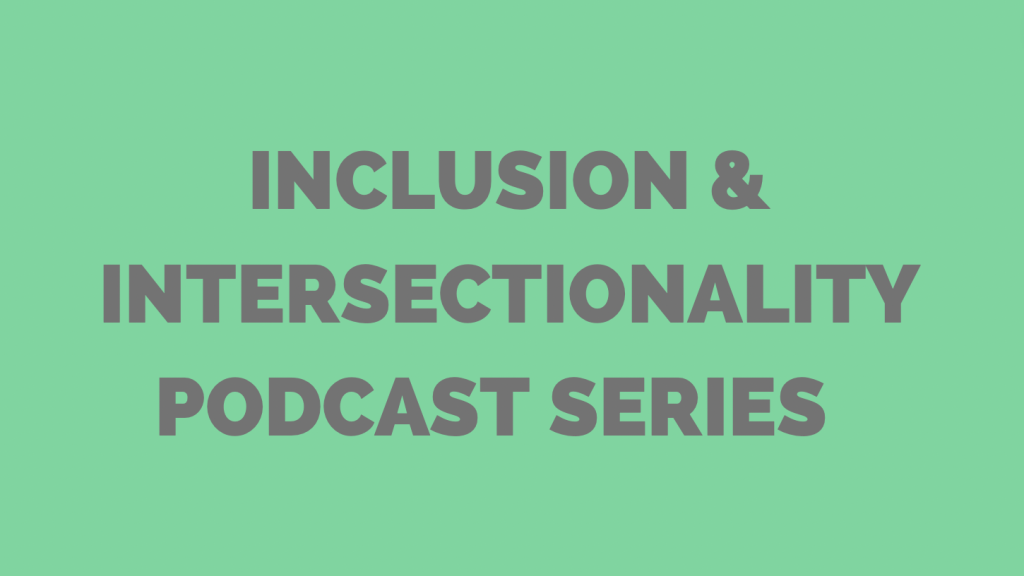 In November 2021, the Society for Dance Research hosted the Inclusion & Intersectionality symposium in collaboration with the Centre for Dance Research (C-DaRE) at Coventry University and Candoco Dance Company.
The symposium sparked many fruitful conversations from panellists and attendees. These discussions were so vibrant that The Society wanted to continue them, bringing together different presenters or attendees from the symposium in conversation together. We are proud to announce that these will be in the form of a podcast series!
You can access the podcast via Apple Podcasts, Spotify & Anchor.


First episode Curating and Producing Dance will be released on Monday 26th September.
Podcasts will then be released fortnightly.

Read more about the podcasts in the series below:
EPISODE 1: Curating and Producing Dance – with Mercy Nabirye and Angela Conquet. Chair: Jane Carr
This insightful discussion brings together Mercy Nabirye, consultant and creative producer for African Diaspora arts and founding Director of Kauma Arts, and Angela Conquet, an independent dance curator, consultant and PhD candidate at the University of Melbourne to explore intersectionality and inclusion within dance production and curatorial practices.
During the symposium Mercy presented an intervention titled 'Centring and Intersectionality: Black Perspectives in Dance Research ' which included contributions from Funmi Adewole and Duane Cyrus (both of whom, along with Mercy participate in another of the podcast in the series). While Angela presented a provocation, 'Making Dance Present', in which she explored the problematic dominance of a particular aesthetic within what has been termed 'contemporary dance'.
Talking together to Jane Carr, Mercy and Angela reveal more of their experiences of producing the work of diasporic artists in the context of the hegemonic  values of contemporary dance.They emphasize the need for continuing dialogue in negotiating the complex issues that arise in working to create a more inclusive dance field stressing how we need to be open to the uncomfortable process by which we 'keep getting it wrong to get it right'.
Click here to listen to this episode
EPISODE 2: Unpacking inclusion and intersectionality through dance practice and research with Stuart Waters and Vipavinee Artpradid. Chair: Kathryn Stamp.
This podcast explores ideas around intersectional identities including queerness, neurodiversity, disability and mental health, discussed in relation to experiences of practice and audience engagement. Reflecting on their presentations from the symposium and the commonalities that emerge, Vip and Stuart consider intersectionality within the body and varied understandings of 'inclusion'.
Click here to listen to this episode
EPISODE 3: Cultural Appropriation and Racial Erasure in Ballet and Lindy Hop with Dr Sandie Bourne and Marion Quesne. Chair: Sinibaldo De Rosa
Discussing narratives and stereotypes in two distinctive dance genres, ballet and lindy-hop, this conversation explores themes of cultural appropriation, representation, racial erasure and dispossession of black people in dance. Advocating for a decolonial agenda in dance education and research, the episode touches upon forms of sexism, tokenism and inadequate understandings of inclusion.
Click here to listen to this episode
EPISODE 4: Ethics of dance research in practice with Virginia Farman, Jane McLean and Ruth Spencer. Chair: Bethany Whiteside
This podcast broadly considers the ethics of dance research and practice, working with dancers who may identify as differently abled, neurodivergent, having a disability. We recognise that the terminology can be both individual and complex. Recognising that the speakers identify as able-bodied researchers, this conversation has a concrete focus on the learning and experience gained by these individuals in a dance research context.
Click here to listen to this episode

EPISODE 5: Borders and Identity in Dance Practice Research – with Kiri Avelar and Thea Stanton. Chair: Vicky Hunter
In this podcast, two practitioner-researchers, Kiri Avelar and Thea Stanton discuss their research in relation to issues of Inclusion and Intersectionality and, with particular reference to the writing of the Chicana cultural feminist Gloria Anzaldua. They reflect on the impact of this work (and wider Borderlands theory) on their work and the development of their own researcher identity and positionality.
Click here to listen to this episode
EPISODE 6: Centring and Intersectionality: Black Perspectives in Dance Research with Dr Mercy Nabirye, Dr Funmi Adewole Elliott and Duane Cyrus.
This podcast revisits and expands on pertinent highlights from the panel discussion and intervention titled 'Centring and Intersectionality: Black Perspectives in Dance Research' which was presented at the Centre for Dance Research two-day symposium in November 2021, focusing on inclusion and intersectionality.
The discussion is facilitated by Dr Mercy Nabirye, Consultant and Creative Producer for African Diaspora Arts and founding Director of Kauma Arts and it brings together Dr Funmi Adewole Elliott, Senior lecturer at DeMontfort University UK, Academic Researcher, Storyteller and dramaturge; and Duane Cyrus, recently appointed Director of the School of Dance at the University of Arizona at Tucson, USA, artist, curator, and founder of Theatre of Movement.
In conversation, they discuss and compare the ongoing struggle for inclusion from their different perspectives, intersectionality, and practice but centring on the idea of creating spaces where a range of black voices can be heard. They explore some of the complexities of understanding Blackness in various broader contexts that impact on African diasporic dance practice and research both locally and globally.
Click here to listen to this episode
EPISODE 7: Reflecting on the Inclusion and Intersectionality symposium: PGR perspectives with Chloe Hillyar, Jade Ward and Louisa Petts. Guest host: Louise Katerega (People Dancing).

This podcast episode revisits and reflects on the event itself and brings together postgraduate dance researchers together to discuss the day. The guests journey through the presentations and discussions, thinking about the main themes that emerged, as presented in the report written after the event, which is available on the Society for Dance Research website. Considering these themes from both presenter and attendee perspectives, this podcast explores the wider impact of the symposium, for individuals and the dance research landscape.
Click here to listen to this episode
Podcasts have been edited by Rosa Cisneros from C-DaRE.
Original music for the podcast composed by Jack Drewry and Aisha Ali.